From the Attributes panel you can make mass-modifications to Access level and privileges on items selected in the ACL Entries pane.
The options here correspond with those that appear in the Lotus Notes Access Control List window.
You can set the following parameters:
Type:

Unspecified; Person; Server; Mixed Group; Person Group; Server Group.
Access:

0 - No Access; 1 - Depositor; 2 - Reader; 3 - Author; 4 - Editor; 5 - Designer; 6 - Manager.
Create Documents
Delete Documents
Create Private Agents
Create Private Folders/Views
Create Shared Folders/Views
Create LS/Java Agent
Read Public Documents
Write Public Documents
Replicate or Copy Documents

Using the Attributes panel

If you select one-or-more entries in the ACL Entries pane and select the Attributes panel, all parameters will be indeterminate by default (i.e. the pull-down menus for Type and Access will appear blank and all other parameters will have their checkboxes filled in). You can toggle the checkboxes between on (checked); Off (unchecked); and Indeterminate (filled-in). The Reset button will set all parameter to indeterminate.
Once you've set the parameters just click the Apply button. Any changes made will be marked with the Modified icon in the ACL Entries pane. And, as always, nothing will change on the server until you click File>Apply Changes or Ctrl+S.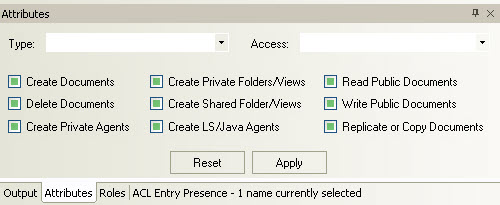 | | |
| --- | --- |
| NOTE | If you set the Access level in the Attributes panel, parameters that cannot be changed for a given Access level will be grayed out. |