The NAB Checker in agentEZ
The 'Check Presence in NAB' option allows you to find all agents that have a signature which are NOT found in the NAB.
When enabled, this feature will display red cells to indicate that those entries were NOT found in the current NAB.
In addition, a flag will mark these entries in the " Is 'Signer' in NAB " Column. Grouping by this column will therefore display ALL these agents with invalid signatures on your server at once.
How to check your NAB
In order use the NAB Checker, click Check Presence in NAB in the options menu. In the main grid, any signers NOT in the NAB will be highlighted in red.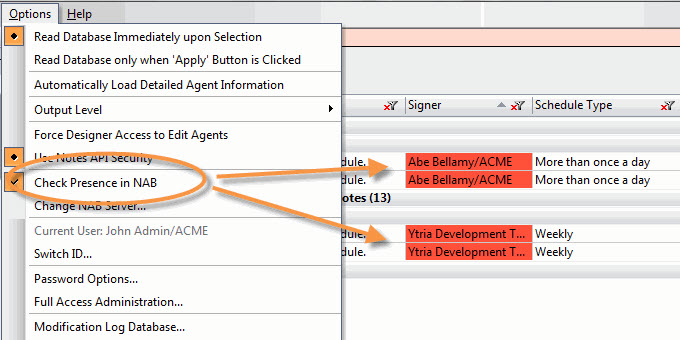 Please note that the "Check Presence in NAB" option is enabled by default. If you have a large NAB and a poor connection, the NAB Checker process may stall your system.

You can also use the "Is 'Signer' in NAB" property to quickly group all agents with incorrect signatures.