Whether you are working with files in users' OneDrive, or in document libraries of sites or groups, the interface for managing documents in sapio365 is the same. The only difference is that shared files in OneDrive are identified upon launch, whereas for group, Team, and site files, you need to load permissions to learn if files are shared or not.
There are 3 areas of document management in sapio365: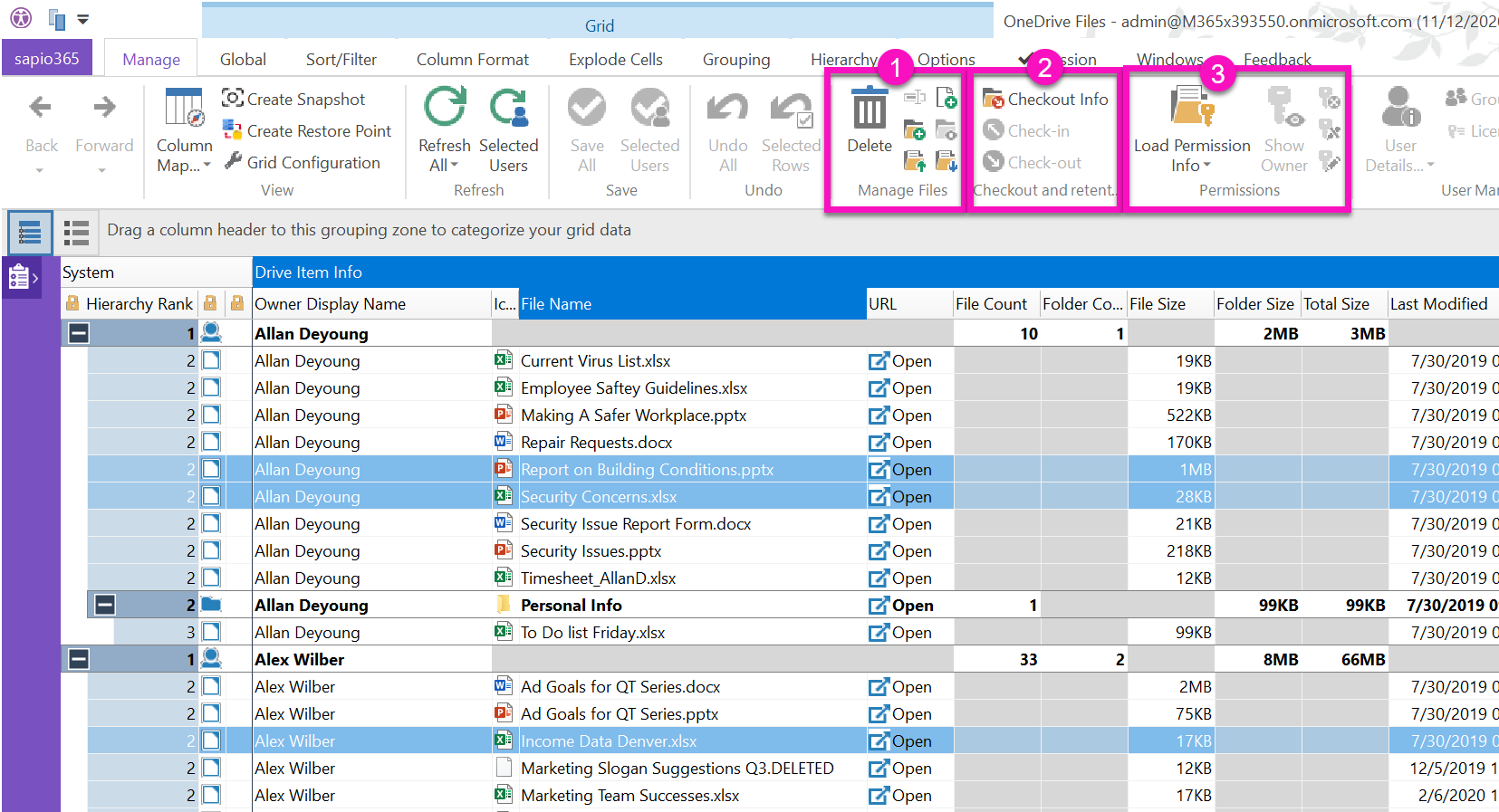 1 - Add/remove/edit files and folders
Use the buttons in this section to:
Delete files and folders
Rename files and folders
Download files and folders
Create a new folder
Upload a file or a folder with files
Note that in flat view, OneNote notebooks and folders are hidden by default. You can show them using "Show Folders and Notebooks" button.
2 - Check files in or out, or see applied retention labels
Select documents and use the 'Load Checkout Info' button to load information pertaining to their checkout status and to see if there are retention labels that have been applied.
When the information has been loaded for selected documents, you can check them out to lock users from making changes to the files. You can check them back in to enable users to edit those documents.
3 - Shared files and permissions
To see who has access and how to a document or folder, load permissions for selected files. Once the operation is complete, scroll to the right or use the Column Map to see the names of the users (Target) and their permission role (Role Based).
You can update edit to write, and vice versa, or delete the selected permissions altogether. If several users have permissions, you can 'Explode' that multivalue cell in order to treat each permission or target user separately.

Note that sharing links like 'Anonymous' or 'Internal' cannot be updated. They can only be deleted.
For OneDrive files, choose not to include 'private' items when loading permissions to speed things up.