The Choose Server Group dialog in replicationEZ
The Choose Server Group dialog
The Choose Server Group option in the Server menu lets you load a server group from a NAB.





All groups listed here are referenced in the Domino Administrator as Group type: Servers only.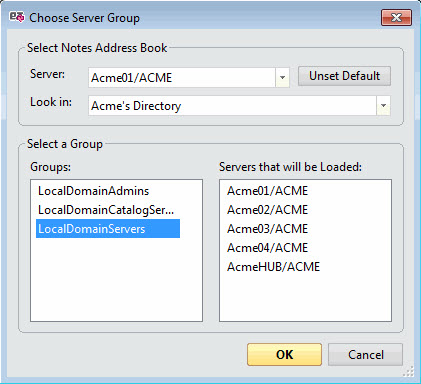 Select Notes Address Book
The Server drop-down menu lets you select a server.



NOTE

Set Default: When you select your Server and your NAB, you can choose to set this selection as default.
The next time the

Choose Server Group

option is launched, your default server and NAB will be selected.




Unset Default: Disables your default selection.
The

Look in

drop-down menu selects the NAB to be used.

Select a Group
Groups:

Any discovered server groups will be shown here.
Servers that will be loaded: The content of each group selected will be displayed in this area.

Select a group and click OK to load the servers (i.e. add them to the Databases Panel).