Tag:
PropertyAnalyzer
The PropertyAnalyzeraction, along with a set of nested SetParam child actions, automates the Property Analyzer process.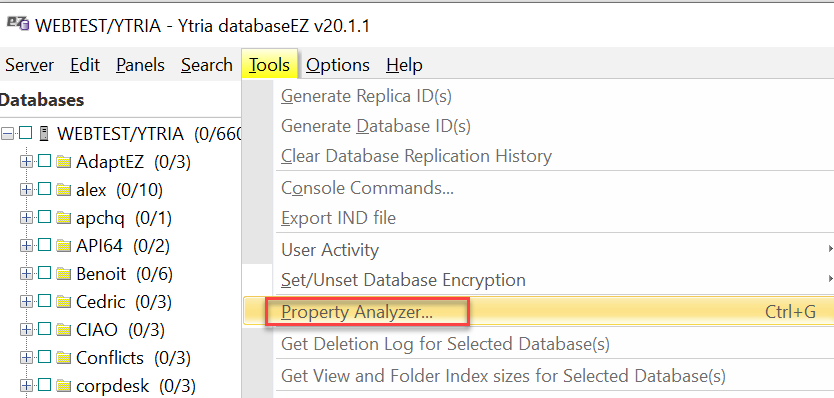 Detailed Description
The action <PropertyAnalyzer/> alone, will run the Property Analyzer using the current default settings.
Running the action with a set of nested SetParam actions, will trigger the 'Save Settings and run analyzer' options and the fields to set corresponding options as found in the Property Analyzer dialog.
SetParam Options
| Field Name | Compatible Field Values |
| --- | --- |
| TemplateNamesDuplicates | True / False |
| ReplicaIDDuplicates | True / False |
| InheritFromGhostTemplate | True / False |
| DBPercentageOfQuotaRemaining | True / False |
| DBPercentageOfQuotaRemainingValue | User defined number |
| NoDataChangeSince | True / False |
| NoDataChangeSinceValue | User defined number |
| DesignChangeWithinLast | True / False |
| DesignChangeWithinLastValue | User defined number |
| DBSpecificSize | True / False |
| DBSpecificSizeValue | User defined number |
| LaunchAnalyzerOnStartup | True / False |
Example Scripts
<PropertyAnalyzer>
	<SetParam Field="TemplateNamesDuplicates" Value="True"/>
	<SetParam Field="ReplicaIDDuplicates" Value="True"/>
	<SetParam Field="InheritFromGhostTemplate" Value="True"/>
	<SetParam Field="DBPercentageOfQuotaRemaining" Value="True"/>
	<SetParam Field="DBPercentageOfQuotaRemainingValue" Value="1"/>
	<SetParam Field="NoDataChangeSince" Value="True"/>
	<SetParam Field="NoDataChangeSinceValue" Value="2"/>
	<SetParam Field="DesignChangedWithinLast" Value="True"/>
	<SetParam Field="DesignChangedWithinLastValue" Value="3"/>
	<SetParam Field="DBSpecificSize" Value="True"/>
	<SetParam Field="DBSpecificSizeValue" Value="4"/>
	<SetParam Field="LauncheAnalyzerOnStartup" Value="False"/>
</PropertyAnalyzer>
<ytriaAutomation>
	<Load Server="Acme01/ACME"/>
	<PropertyAnalyzer>
		<SetParam Field="TemplateNamesDuplicates" Value="True"/>
		<SetParam Field="ReplicaIDDuplicates" Value="True"/>
		<SetParam Field="InheritFromGhostTemplate" Value="True"/>
		<SetParam Field="DBPercentageOfQuotaRemaining" Value="True"/>
		<SetParam Field="DBPercentageOfQuotaRemainingValue" Value="1"/>
		<SetParam Field="NoDataChangeSince" Value="True"/>
		<SetParam Field="NoDataChangeSinceValue" Value="2"/>
		<SetParam Field="DesignChangedWithinLast" Value="True"/>
		<SetParam Field="DesignChangedWithinLastValue" Value="3"/>
		<SetParam Field="DBSpecificSize" Value="True"/>
		<SetParam Field="DBSpecificSizeValue" Value="4"/>
		<SetParam Field="LauncheAnalyzerOnStartup" Value="False"/>
	</PropertyAnalyzer>
</ytriaAutomation>
In the script above, the Property Analyzer will be saved and run using the settings specified in the SetParam child actions