When you click the Update button in designPropEZ's main screen and modify some design element properties, you'll see what changes were made in the Update Results window. This screen uses the grid interface.

The columns available in this grid match the options in the Update Properties window (and information in the Design Properties window in Lotus Domino Designer):
Inherit from
Language
Mobile Hide
Name _Alias
Not in menus
Notes Hide
Prohibit Refresh
Propagate prohibit
Run Agent as Web user
Type
Web Hide

Much of the design property information in the grid is displayed in checkboxes. Here's how you interpret them:
| | |
| --- | --- |
| Checked box | This property is enabled for the specified element |
| Empty box | This property is disabled for the specified element |
| Grey box | This property does not apply to the specified design element (this kind of element does not have this property available to it) |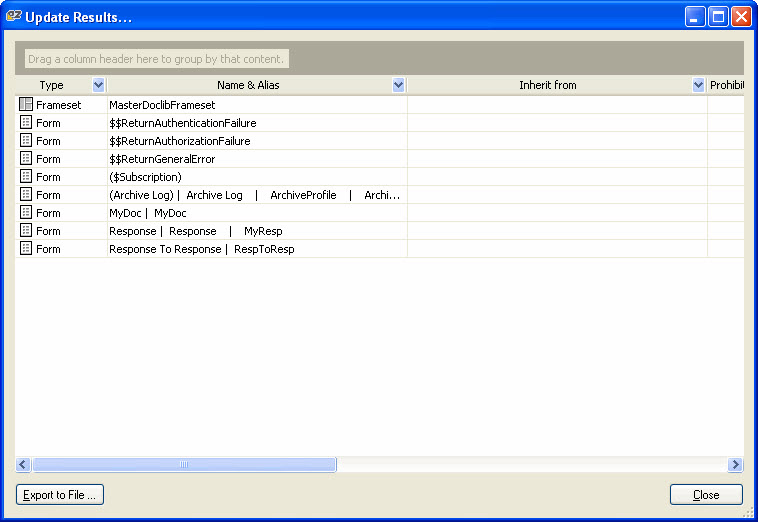 How to use the Results window
Just above the header row you can "Drag a column header here to group by that column" (in our example below, we choose to group by the design Type)
Sort columns by clicking on the column header. Use Shift + Click on headers to sort multiple columns at the same time.
Move columns around by clicking and dragging
Export

your results if needed. You will be able to print your results from your exported document.
| | |
| --- | --- |
| TIP | You can resize, or even hide some columns by dragging the vertical border to the left. |