MySelectionRecategorize: recategorize a My Selection Folder
Tag: MySelectionRecategorize
The MySelectionRecategorize tag, along with a set of SetParam options will emulate the process of recategorizing a My Selection entry in scanEZ.
Detailed Description
All options available for the SetParm in automation of My Selection can be specified in SetParam child actions.
The options for the Recategorization Settings section can also be set in SetParam child actions.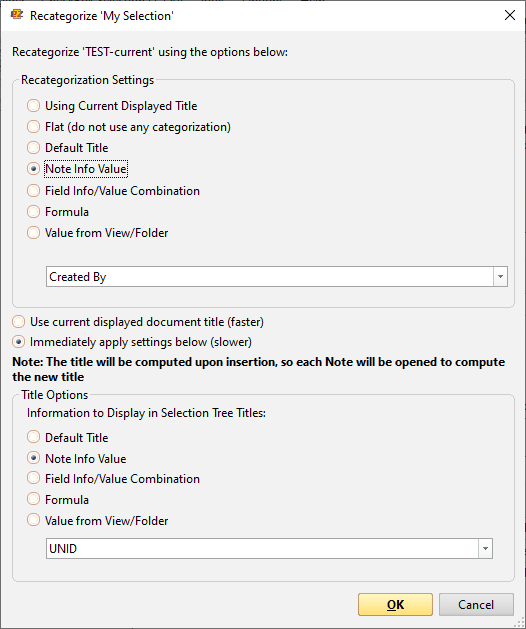 Tag Attributes
SetParam Options
See MySelection: Create a My Selection Folder for the Title Options section.
Options for the Recategorization Settings option:
Example Scripts
<ytriaAutomation>

  <Load Database="MyDB.nsf" Server="ACME01/ACME"/>

  <SearchBy Type="NoteID">
    <SetParam Field="EnterID" Value="2326;2330;2334;2338;2342;2346;2350;2354"/>
    <SetParam Field="PutSearchInSelType" Value="Create"/>
    <SetParam Field="PutSearchInSelCreateName" Value="mugrE"/>
  </SearchBy>

  <MySelectionRecategorize>
    <SetParam Field="RecategorizationSettings" Value="RecategorizationNoteInfoValue"/>
    <SetParam Field="RecategorizationTitleOptionColumnName" Value="($All) -- #5 -- Size"/>
  </MySelectionRecategorize>

</ytriaAutomation>
<ytriaAutomation>

  <Load Database="MyDB.nsf" Server="ACME01/ACME"/>

  <SearchBy Type="NoteID">
    <SetParam Field="EnterID" Value="2326;2330;2334;2338;2342;2346;2350;2354"/>
    <SetParam Field="PutSearchInSelType" Value="Create"/>
    <SetParam Field="PutSearchInSelCreateName" Value="slayer"/>
  </SearchBy>

  <MySelectionRecategorize>
    <SetParam Field="RecategorizationSettings" Value="RecategorizationSystemValue"/>
    <SetParam Field="RecategorizationTitleOptionSystem" Value="NoteID (Hexadecimal)"/>
  </MySelectionRecategorize>

</ytriaAutomation>
<ytriaAutomation>

  <Load Database="MyDB.nsf" Server="ACME01/ACME"/>

  <SearchBy Type="NoteID">
    <SetParam Field="EnterID" Value="2326;2330;2334;2338;2342;2346;2350;2354"/>
    <SetParam Field="PutSearchInSelType" Value="Create"/>
    <SetParam Field="PutSearchInSelCreateName" Value="slayer"/>
  </SearchBy>

  <MySelectionRecategorize>
    <SetParam Field="RecategorizationSettings" Value="RecategorizationFormula"/>
    <SetParam Field="RecategorizationFormulaBtn" Value="@Created"/>
  </MySelectionRecategorize>

</ytriaAutomation>
<ytriaAutomation>

  <Load Database="MyDB.nsf" Server="ACME01/ACME"/>

  <SearchBy Type="NoteID">
    <SetParam Field="EnterID" Value="2326;2330;2334;2338;2342;2346;2350;2354"/>
    <SetParam Field="PutSearchInSelType" Value="Create"/>
    <SetParam Field="PutSearchInSelCreateName" Value="slayer"/>
  </SearchBy>

  <MySelectionRecategorize>
    <SetParam Field="RecategorizationSettings" Value="RecategorizationFlat"/>
  </MySelectionRecategorize>

</ytriaAutomation>
<ytriaAutomation>

	<Load Database="MyDB.nsf" Server="ACME01/ACME"/>

	<Expand target="tree" Category="Documents"/>
	<Focus Target="Tree" Category="Documents"/>
	<SelectByRegex Regex=".*"/>

	<MySelection>
		<Setparam Field="MySelectionName" Value="TEST-current"/>
	</MySelection>
		
	<MySelectionRecategorize>
		<Setparam Field="RecategorizationSettings" Value="RecategorizationSystemValue"/>
		<Setparam Field="RecategorizationTitleOptionSystem" Value="Created By"/>
		<SetParam Field="TitleMethodType" Value="Compute"/>
		
		<Setparam Field="TitleOptionType" Value="System"/>
		<Setparam Field="TitleOptionSystem" Value="UNID"/>
	</MySelectionRecategorize>
	
</ytriaAutomation>