Command History in consoleEZ
Command History
The Command History grid retains all the commands entered in the Domino Command menu for all consoles. You can see the time and date of the sent command, as well as the Domino server and user ID used. You can also manage your commands with the Favorite and Delete functions.
Delete: Deletes the selected command from the grid.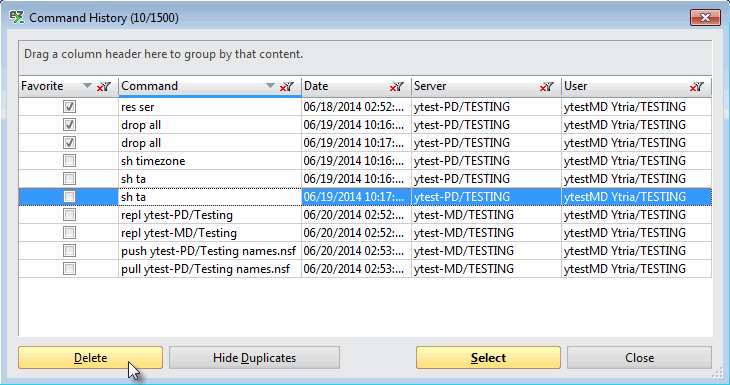 Hide Duplicates / Display All: Allows you to hide or display the duplicated commands. The Date, Server and User information will

not

be visible if you select Hide Duplicates.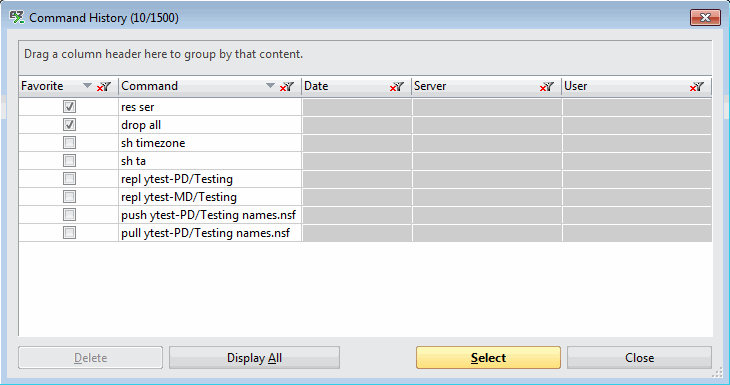 Select: The Command selected from the Command History grid will be displayed in the Domino Command field.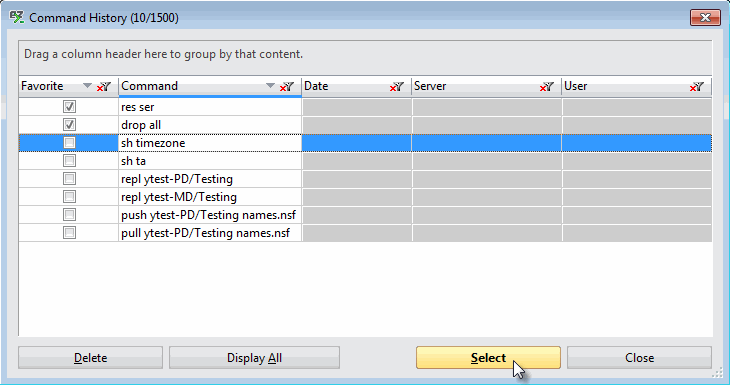 Close: Closes and saves changes in the Command History window.
TIP

You can define the maximum number of commands loaded in the grid with the Options / Preferences / Max commands in Command History.
More information about Preferences can be found here.

The Command History is stored in the YtriaCommandHistory.xml file, located in your Notes/data directory.


In this example we have 10 commands displayed in the grid, and a maximum of 1500 commands possible.
Note

You can set one or more Commands as Favorites.
Note that a 'favorited' command cannot be deleted. In order to delete, you must first unset it as a favorite.


Grid right-click options - Tools and Columns
Select command by using

Ctrl

+

Enter

or double-click

More information about Grid Tools and Options is here.

The Command History Grid includes the following columns:


| | |
| --- | --- |
| Favorite | Favorite Command |
| Command | Typed Command |
| Date | Date and Time value |
| Server | Server Command sent on |
| User | Command send by user |

More information about Grid Columns is here.