The Console Commands in databaseEZ
The Console Commands interface allows you to send Domino command lines directly from within databaseEZ.

To do so, select your databases in the Main Grid, and go to Console Commands in the Tools menu.



Console Commands Dialog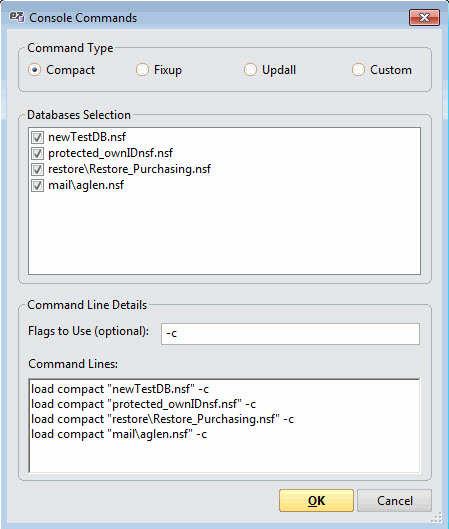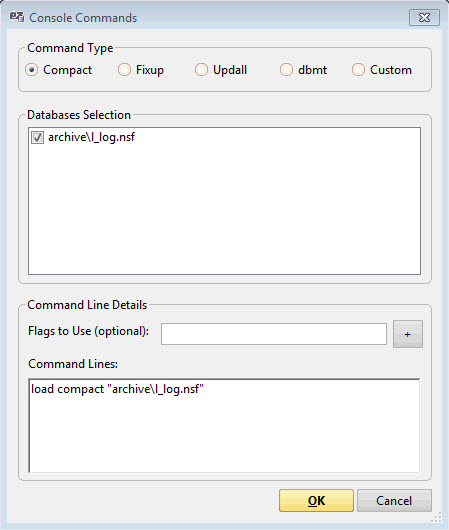 Use this dialog to generate your commands for any of the following: Compact, Fixup, Updall.

Select a Command Type, then any target databases. You can provide additional arguments in the Flags to Use input field.

This will generate one command line per database in the Command Lines area.

To edit your commands lines, you can then use the Custom radio button.


NOTE
A list of Domino server commands and syntax can be found

here.
Sending Console Commands
Once your Console commands are set, click OK to send them to your server.

The following Warning window reminds you about the number of console commands you are going to send to your server.
Be aware that sending many commands simultaneously to a server can affect its performance.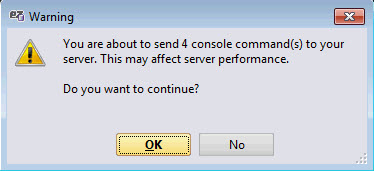 Click OK to continue and process the sending of your commands, or No to go back to the Console Commands window.





The Console Commands Status window will then appear to give you the number of commands successfully sent to the server.
You can click on the View Details button to open the Console Commands Status grid.



Grid right-click options - Tools and Columns
More information about Grid Tools and Options is here.

The Console Commands Status Grid includes the following columns:


| | | |
| --- | --- | --- |
| | Default Enable | Detail |
| Command | * | Typed Command. |
| Server Response | * | Domino console information. |

More information about Grid Columns is here.