Manage assigned M365 licenses and services

Once you retrieve assigned Microsoft 365 licenses for selected users, you can remove licenses or assign new ones, and you can manage the state of the service plans of assigned licenses. You can also update the license usage location here.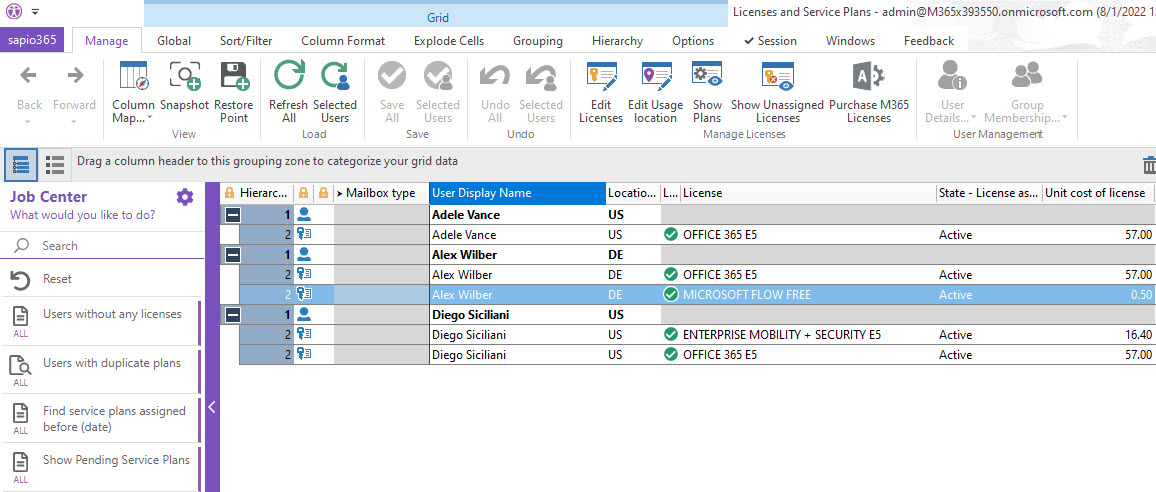 You can only assign or remove directly assign licenses in this window. You will get an error if you try to save changes to licenses that are assigned through group membership.
However, you can get the group memberships of the affected users from this window, and manage those users' memberships. See steps.
| Button | Description |
| --- | --- |
| Edit Licenses | Remove assigned licenses or assign new ones. You can also enable or disable service plans of assigned licenses. |
| Edit Usage location | Change the license usage location (country). |
| Show Plans | Add service plan information to the grid for each license shown. |
| Show Unassigned Licenses | Add unassigned licenses to the grid for each user shown. |
| Purchase M365 Licenses | External link to the Microsoft 365 Admin Center where you can purchase more Microsoft 365 licenses. |