Manage mail messages and attachments

From Users window, select mailboxes and retrieve their mailbox contents by clicking on the ' Messages' button.
Message loading options
You can choose a specific date range, or criteria to speed things along. You can also choose to load more information using options.
The more information you choose to load, the longer it may take to load your data.
| | Option | Description |
| --- | --- | --- |
| 1 | Get messages created within | Load all messages or only those that were created during the last hour, day , week or month. Or, get all messages created since a specific date (inclusively). |
| 2 | Recoverable Items Folder | Include messages in Recoverable Items subfolders Deletions, Purges, Versions, DiscoveryHolds and SubstrateHolds. |
| 3 | Advanced filter | Load messages based on their properties. Ex. Attachments = True. |
| 4 | Event reference data | Include properties that relate to calendar events for certain message types (responses, invitations, etc). |
| 5 | Mail preview | Add message content in the grid under 'Mail Preview' column. |
| 6 | Body content | Include body content properties and allow preview in message viewer using the 'Preview Body' button. |
| 7 | Mail headers | Include mail header data. |
| 8 | Limit the number of messages | Load only a specific number of recently created messages. |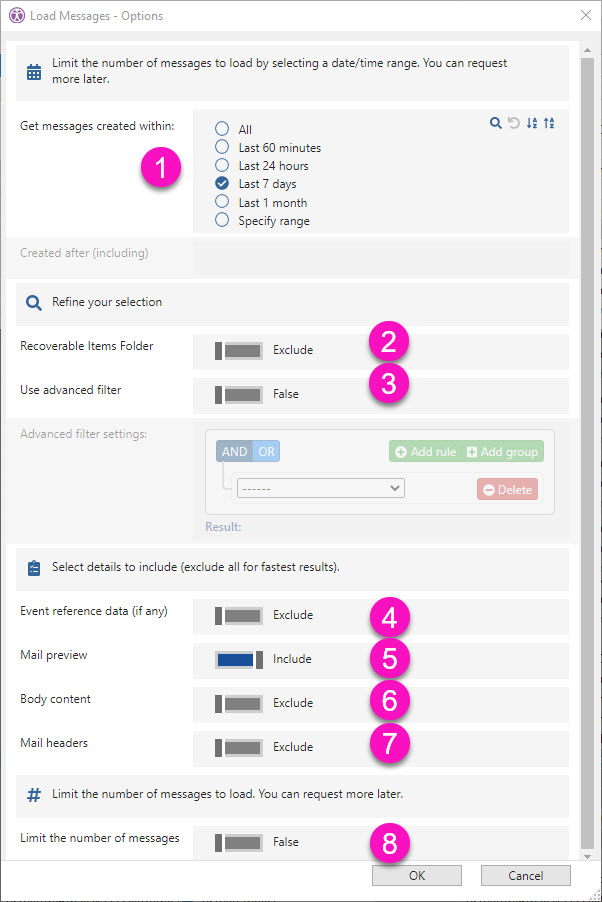 Manage messages
Once loaded, messages can be analyzed with sapio365 grid tools, or they can be edited, downloaded or deleted.
Button

Description

1

Change Options

Change messaging loading options.

2

Preview Body

Message viewer for one message at a time. You can go to previous or to next message listed in the grid.

Button is enabled when 'Body Content' is included in loading options.

3

Download as EML

Download individual messages in .eml format, which is readable by most mail clients.

4

Edit

Edit message properties

5

Delete

Soft-delete messages.

6

Load Attachment Info

Add attachment data to the grid, including inline attachments, in order to manage attachments.

7

Event details

Retrieve calendar events that are related to the selected messages.

Button is enabled if selected emails have event-related data ('Event reference data' included in loading options).