In scanEZ's Diff Panel you can edit a field in all the documents in your selection by choosing an item then clicking the Modify button.
| | |
| --- | --- |
| NOTE | You can only edit one field at a time for your document selection, if you have more than one field selected, the topmost item in your selection will be the only one affected by the Modify button. Please note that the Delete, Copy, and Rename buttons do support multiple item selections in the Diff panel. |
Follow these steps to edit a field:
Select the field you wish to modify.
Click the

Modify

button at the top of the Diff panel
Type the new name (Optional)
| | |
| --- | --- |
| NOTE | If you change the field name, scanEZ will ask you if you want to create a new field or cancel the operation. |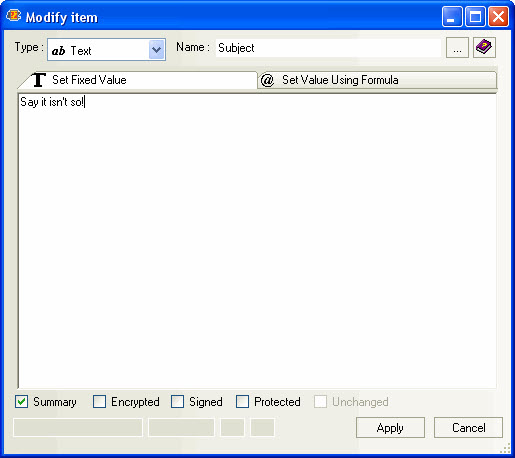 Enter a new value in the

Set Fixed Value tab

or click the

Set Value Using Formula tab

to input a formula to generate the field values.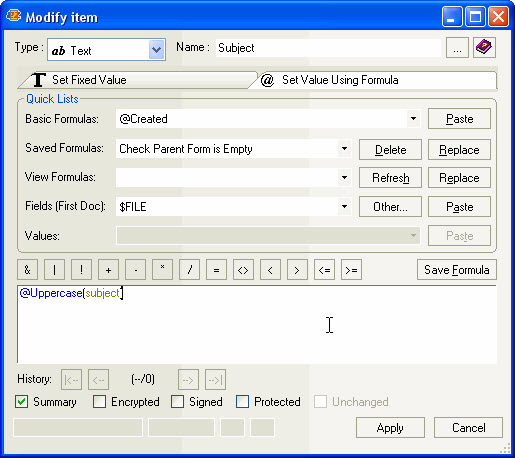 Click any required checkboxes (Summary, Encrypted, Signed or Protected)
Click

OK
| | |
| --- | --- |
| TIP | As of scanEZ version 10, the formula history is automatically saved to disk in a file named "YtriaFormulaHistory.sfd" in your Notes data directory. The last 99 formulas used will be saved. The formulas can be instantly shared between open sessions of scanEZ. In addition, you can click the Save Formula button if you'd like the option of permanently saving a formula. |
If the field is not found in one-or-more of the documents in your selection, you will be prompted with a warning dialog where you can either: create the field where it's missing; skip those documents where it's missing; or cancel the operation.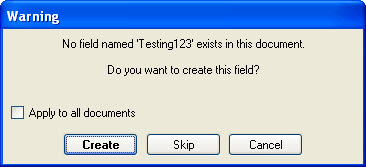 | | |
| --- | --- |
| NOTE | If you attempt to mass-modify a field with a type that wouldn't normally be modified (ie: anything other than: Text, Text List, Number, Number List, Date, Date List, Name, Name List fields), scanEZ will display a warning prompt asking you if you'd like to continue. |