Saving signature settings in signEZ
When the Remember my Settings option is checked, signEZ will create a document in the signEZ database that will save your signature or audit settings as well as the settings in the Options menu in a batch file for future use.

Also, if you have checked the Remember My Settings box, the next time you open a database in signEZ from your Notes client, any saved settings will be restored. However, if you open a database using the Database>Open Database menu option in signEZ, saved settings will be ignored.


| | |
| --- | --- |
| NOTE | You must have an access level of Author or greater to use the Remember My Settings option. If you don't have sufficient access the checkbox will be grayed out. See the table on this page for more information on the implication of access level settings in signEZ. |
The Saved Settings view in the signEZ database allows you to view and create batch documents with settings that you will be able to use to sign or audit your databases.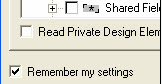 The following information is saved when the Remember my Settings option is enabled :


Design Elements tab
Your design element selection will be saved. (e.g: if you've created settings to sign only certain Forms and Views)
Settings tab
From here, the chosen action (ie:

Sign,

Clean and Sign, or

Audit), the options associated with the action, and the specified signEZ log database are saved.
Using your saved signature settings
If you want to re-use the settings you have already saved, just open the Saved Settings view of the signEZ database, select the setting you want to use and then click the Execute action button. This will run signEZ with all the settings (design elements chosen, settings to be used, signing ID) you have chosen to save.
You can also double click on the setting in the view to open it in signEZ without executing it.



| | |
| --- | --- |
| NOTE | A signature settings Batch document is automatically created if the Remember my settings is checked whenever you click "Sign" or "Exit". Don't be surprised to see a document in the signEZ database even if no audit or signature was executed! |
Linking to another signEZ database
If you want to save your settings in another database (rather than in the current signEZ database), you can specify this in the Database Options menu in signEZ (see image below). This can be any database as long as it uses a signEZ template.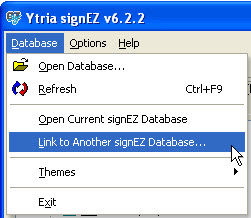 Example
We made our selections in the Design Elements and Settings tabs and used the Remember my settings checkbox. Now when we open the batch document from the signEZ database, it loads exactly what was selected earlier. See the two screenshots below: