Deletion Stub Explorer in scanEZ
The Deletion Stub Explorer
The Deletion Stub Explorer lists detailed information about all the deletion stubs in a database.

You can find this feature in the Tools menu, or by right-clicking the Deletion Stubs category in the Selection Tree.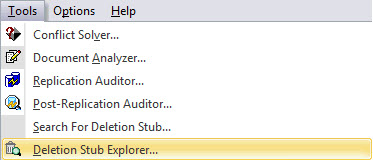 Options in the Deletion Stub Explorer
A cut-off filter is available in the Options section in the top part of the window.



You can choose to filter by either Deletion Time (In this File) or Deletion Time (Official) via radio button.

This feature lets you enter a cut off Start Date and End Date for the deletion stubs to be displayed in the grid.

Select the Start Date and the End Date for the search by using the Date Picker button.



Additionally in the upper right is the global Deletion Stub Lifetime Setting for the database in days.

The Display section lets you choose to show the Deletion Stub documents in the grid with a filter on the soft deletions. You can do so by checking either Deletion Stubs (excluding soft deletions), or Soft Deletions Only.

When your settings are done, click Search to populate the Deletion Stub Explorer grid.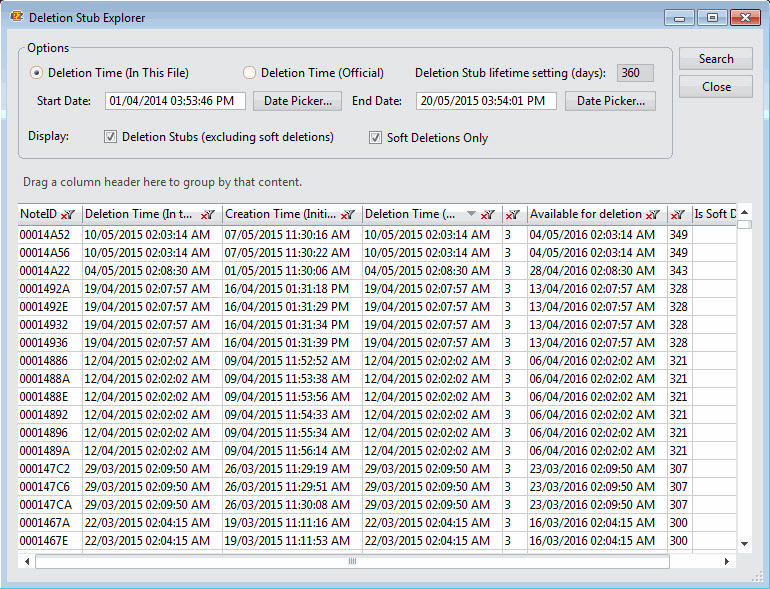 Grid right-click options - Tools and Columns
Delete (delete stub): Deletes the selected deletion stub.
Hard Delete

(create stub): Removes any document data retained in a soft deletion stub and transforms it into a regular deletion stub.
Restore: Allows you to restore a soft deleted document.

More information about Grid Tools and Options is here.

The Deletion Stubs Explorer grid includes the following columns:


| | |
| --- | --- |
| Available for Deletion | Date and time when the document is available for deletion. |
| Creation Time (Initially) | Date and time of the document's initial creation. |
| Deletion Time (In this file) | Data and time of the document's deletion in this file. |
| Deletion Time (Official) | Data and time of the official document deletion. |
| Is Soft Deleted | Checked if the document is Soft Deleted. |
| NoteID | Particular note in a database. |
| Remaining life of deletion stub (days) | Days before the deletion stub is deleted. |
| Sequence Number | Document's modification sequence number. |
| UNID | Universal Note ID. This column is not displayed by default. |
More information about Grid Columns is here.