This is your entry point to view all your groups and access over 150 group properties in Azure Active Directory and the entire list of on-prem group attributes in your local Active Directory.
Retrieve more properties as needed, update them or navigate to views where you can manage group content, members and more.
For faster load times, you can pre-filter groups before loading:
Filtered list of groups (use various property filters)
Deleted groups (Microsoft 365 groups in the Recycle Bin)
Teams only
Security Groups only

1 - Load more information for selected groups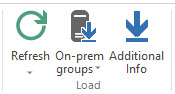 In this section you can refresh or reinitialize your grid data and cache subsequently. You can also load additional data to the grid for the groups you select (the initial load retrieves basic group properties for every group).
Properties that are retrieved through additional loading are displayed with an icon and text in a grid cell, indicative of the button to use to load the information.
Loading additional data is required before editing these properties because saved changes are processed through the grid.
2 - Update selected groups, delete them, create or import new ones or convert them to Teams
Features in this section allow you to make changes to your groups in Azure AD or on the local Active Directory (hybrid tenants), delete them, create new groups, convert Microsoft 365 groups to Teams, and bulk import or update groups from a file.
Hybrid tenants
If you have a hybrid tenant, certain changes can be made in Azure AD or in the associated local Active Directory.
Remember to force sync and refresh the sapio365 grid to see the changes in your synced data.
You can sync groups on AD DS and Azure AD directly from sapio365 in the submenu of "On-premises groups".

in the features below indicates that an on-prem option is available in the submenu of the button.
3 - Manage owners, members, mail recipients, files, calendar events, Team channels, conversations, sites and deleted groups

The features in this section allow you to retrieve information about the relationship of selected groups with their members, owners, mail and calendar, channels (if Teams), conversation posts, SharePoint sites and document library files. You can also retrieve the list of deleted Microsoft 365 groups and Teams from the recycle bin.
4 - Manage on-prem group members (hybrid tenants)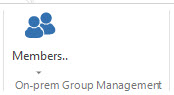 This section is only visible for hybrid tenants and the feature only applies to selected on-prem or synced groups, launching a new view with members and owners of selected groups.
| Button | Description |
| --- | --- |
| On-prem Group Management | |
5 - Manage group expiration policy and other settings

In the Group Settings tab, you can use features to manage the expiration policy for Microsotf 365 groups and other tenant-wide settings like prohibited names lists.
| Area | Description |
| --- | --- |
| Group Expiration Policy and Group Policy Management | See details about your current Microsoft 365 group expiration policy and manage it, and apply it to groups you select. |
| Global Settings | See if guests are globally allowed in your Microsoft 365 groups or update some tenant-wide settings. |