The designPropEZ Main Screen
In the main screen, you can select the design elements you want to work on with checkboxes, Search for design elements matching specific criteria, Audit the properties of the selected design elements and Update the design properties of the selected design elements.



| | |
| --- | --- |
| NOTE | Ytria designPropEZ will launch with the last opened or selected Notes database, or follow the information set in your notes.ini file (YtriaLastOpenDatabasePath and YtriaLastOpenServerName) |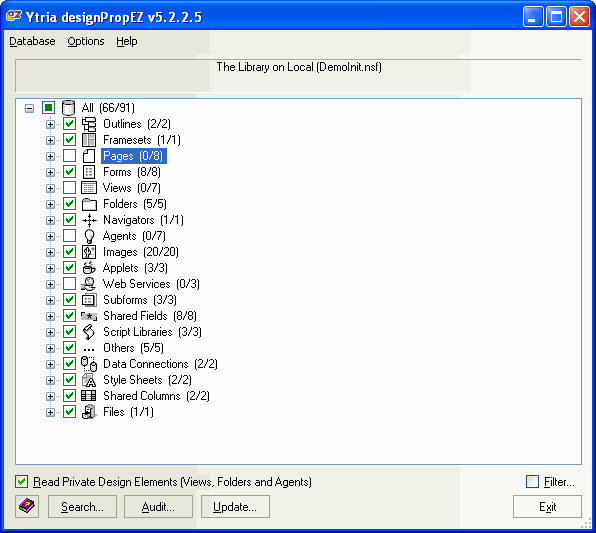 | | |
| --- | --- |
| TIP | You may use the Filter option to get a more specific list of design elements in the tree view. |
Menu options
Database:
Open Database: This option lets you open a new database to work on.
Open database with: This allows you to open the current database in another installed Ytria tool.
Refresh

Ctrl

+

F9

Themes: All Ytria tools allow you to change their theme or "skin." Read more about this feature

here.
Favorite Databases: This feature lets you keep a list of favorite databases. Databases added to this list will be shared with any other database-level Ytria products. Click

here

to read more about this feature.
Exit: Quit designPropEZ.
Options
From this menu you can customize the way designPropEZ displays design elements. Read more about this feature

here.
Help
Ytria designPropEZ shares the same

Help

menu options as our other tools. See the

Help menu

page for more information.
Read Private Design Elements (Views, Folders and Agents)
If you check the box, designPropEZ will display private elements (but it could be a little slower). If you uncheck this box, searching and reading the documents will go faster but you will not be able to see any private views or folders (the tool will use the Design Collection Note instead of NSFSearch).



| | |
| --- | --- |
| TIP | You can simultaneously launch several sessions of designPropEZ |