By default, scanEZ displays the list of all documents in the Selection Tree categorized by form name. A counter, next to each category name shows the corresponding number of documents.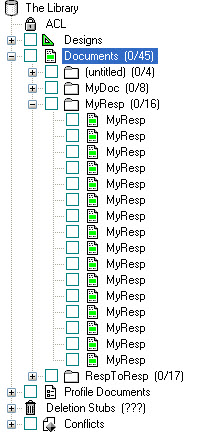 When a document is selected in the Selection Tree, the right side of the window provides all available information about this particular document.

The top part displays the the list of all the fields contained in the document and for each of them :
Type
Name
Nb
Sequence Number
DupID
Index
Value
Last Modified time

See the Viewing and Editing Data section for more information.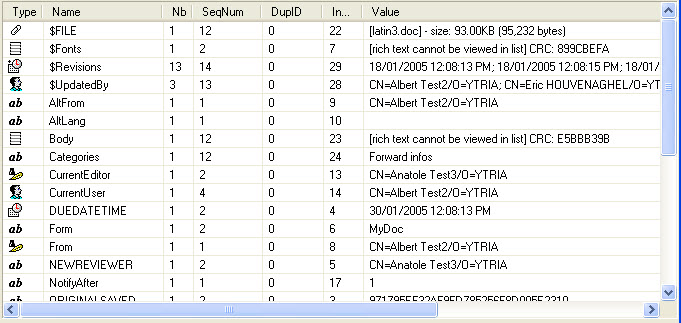 | | |
| --- | --- |
| TIP | You can sort the values by clicking on any column header. |
Below the list of the fields is the Note Info tab in the Information Panel which contains generic information about the Note :
UNID and NoteID that you can copy (with the button next to them)
Name of the person who created the note and creation date
Name of the last modifier and date of last modification
Sequence Number
Last Accessed date
Size in KB (and bytes)
Number of fields



The two other tabs : Responses and Readers/Authors are detailed in their own sections.
Actions available from the Documents menu
New Document
Create a new document
New/Get profile document
Get or create a new profile document
Copy
Copy, paste, modify, save, cancel changes on a document
Paste
Modify
Save
Cancel Changes
Copy to Another Database...
Copy or move a document or all documents in a category or folder to another database
Move to Another Database...
Set New Parent to Response(s)...
Set new parent of a document or all documents in a category
Delete
Delete a document or all documents in a category
Modify UNID...
Modify the UNID of a document
Change Displayed Title...
Change the title displayed in the exploration tree
Compute with Form
Apply a form on a document
Open in Designer...
Open the document in the Notes Client, Web Client or Designer (if the document is a design element)
Open in Notes Client...
Open in Web Client...