In the main screen you can select the design elements you'd like to work with using checkboxes, then simply click the Columns or Views button to begin modifying the properties of your selection.


| | |
| --- | --- |
| NOTE | Ytria viewEZ will launch the most-recently opened or selected Notes database, or follow the information set in your notes.ini file (YtriaLastOpenDatabasePath and YtriaLastOpenServerName) |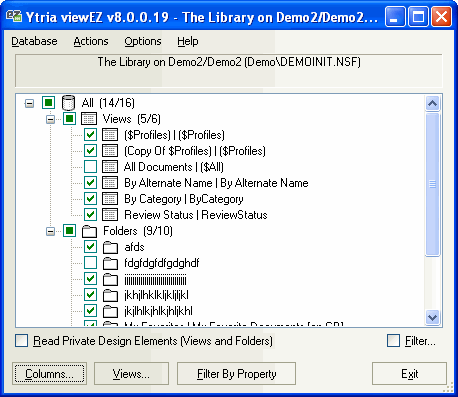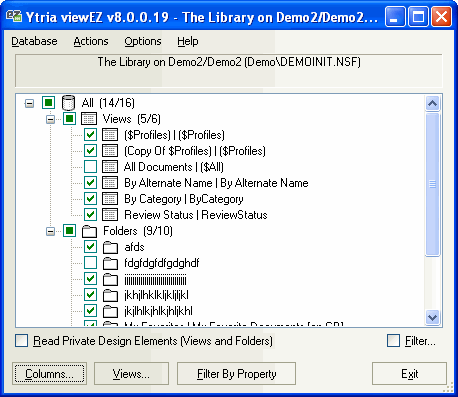 | | |
| --- | --- |
| TIP | You can use the Filter option to narrow down the list of design elements in the tree view. |
MENU OPTIONS:


Database
Open database:

Open a different database
Open database with: This allows you to open the current database in another installed Ytria tool.
Refresh

Ctrl

+

F9

Themes: All Ytria tools allow you to change their theme or "skin." Read more about this feature

here.
Favorite Databases: This feature lets you keep a list of favorite databases. Databases added to this list will be shared with any other database-level Ytria products. Click

here

to read more about this feature.
Exit: Quit viewEZ.

Actions
Purge Index for Selected View(s):

This option lets you purge the indexes for any views selected in the viewEZ main screen's selection tree.

Options
From this menu you can customize the way viewEZ displays design elements. Read more about this feature

here.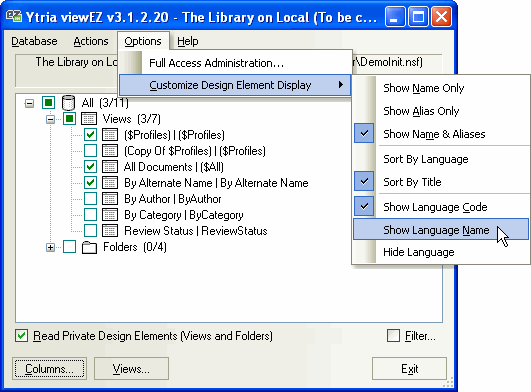 Help
Ytria viewEZ shares the same

Help

menu options as our other tools. See the

Help menu

page for more information.
Read Private Design Elements (Views, Folders and Agents)

If you tick this checkbox, viewEZ will display private elements. If you uncheck this box, viewEZ will search and read documents more quickly, but you will not be able to see any private views or folders (the tool will use the Design Collection Note instead of NSFSearch.)



| | |
| --- | --- |
| TIP | You can simultaneously launch several sessions of viewEZ. |